Helpful Tips to Becoming a Better Exhibitor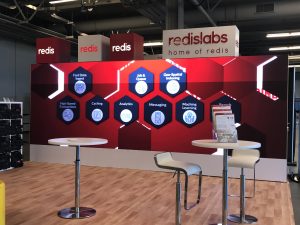 Preparing for a trade show requires significant time, energy and planning. Exhibitors have long to-do checklists, vendor meetings, and detailed planning that must be completed weeks or months in advance before you will ever step foot in the exhibition hall. We understand that not every show will be a success, and that it's important to take all of the steps necessary to make sure each trade show exhibit is attractive and memorable for potential clients and profitable for us and our organizations.
Although there isn't a magical list of steps to guarantee trade show 100% success 100% of the time, there are five key factors to seriously consider to make you a better exhibitor at your next trade show. Following these five tips can help you improve on past efforts and maximize the opportunities you'll receive from future ones.
5 Helpful Tips to Becoming a Better Exhibitor
1. Clearly Identify Your Target Audience
This is known as a "Buyers Persona." Your goal should not be to connect with every person that walks through the exhibition hall. You want to attract the right customers to your booth- the individuals who will likely become buyers. Define your buyer persona (or personas) by considering age, gender, ethnicity, income, likes and dislikes, key motivators, or demographical location. Identifying who you want to reach will help you tailor your marketing message specifically to that demographic. Remember, you may have multiple Buyers Personas that you hope to reach, depending on the nature of the trade show you're presenting at. That's ok. Just be clear about which persona you're targeting at each event and tailor your message accordingly.
2. Outline Your Complete Marketing Plan
Compile a creative brief that lays out what your trade show goals and plans will be. Putting this information together may take some time, but it will serve as a tremendous guide and benefit as you work through the organizational and planning process. Identify your goals for the specific trade show at hand. What is your budget for the event? Where would you like your booth to be located? What marketing strategies are you considering? Who is your target audience for the event? Writing this information out will serve as a reference tool as you get to work preparing for the trade show.
3. Know the Power of "Yes" and "No" and Choose Your Trade Shows Carefully
Think carefully about which trade shows will be most beneficial and produce the highest return-on-investment, and which ones won't. Sometimes, the saying is true, "less is more." Use your resources wisely. Do research to determine which exhibitions will attract an audience that most closely matches your ideal Buyers Persona. Choosing which shows to say "No" to will help you eliminate wasted time and money on events that won't produce the results you're looking for.
4. Your Marketing Strategy Matters
Be mindful of the fact that every element of your exhibit is a marketing effort for your organization, and as such, should reflect your overall marketing strategy clearly and effectively. The design elements of your booth, the booth location in the exhibition hall, the design of your promotional materials and brochures, the personnel you select to staff the booth at the event: it all sends a message to your prospective audience. All of these items should be carefully selected to reach their full marketing potential.
5. Follow-Up Done Right
Once you've connected with prospective buyers at your exhibit, it's important that you don't lose the momentum generated from the event. Identify which visitors are true potential buyers and follow up within the first week following the event. How do you know who to follow-up with? Be sure to have your booth staff make notations about each lead encounter. Who are the non-buyers? Who showed legitimate interest? Who made commitments on the spot? Who asked for specific information? What information was it that they asked for? Take note of these specifics to help you gear your follow-up efforts uniquely for each lead. You'll find that you'll see a much greater return-on-investment by not offering a "one-size-fits-all" follow-up with each trade show attendee.
The goal of any trade show exhibit should be to build a strong image and brand for your organization. A productive exhibit should generate sales leads, allow you to network with other industry leaders, and meet potential investors for your company. A little extra time spent intentionally planning and constructing a thoughtful marketing strategy will help you be a better exhibitor at your next trade show and will help your booth be more memorable to attendees.
At AES, we strive to provide superior service with hard work and integrity for every client we meet. Whether you're an exhibitor or a show manager, we can help your next trade show go be better than ever. Contact us today to learn how.