Connecting people through
live experiences & brand marketing
Team selection can be the most important step in producing your next event, and picking AES as your Event Service Partner is a step towards a winning outcome. We're here to help you and your exhibitors maximize your event experience and minimize the hassle.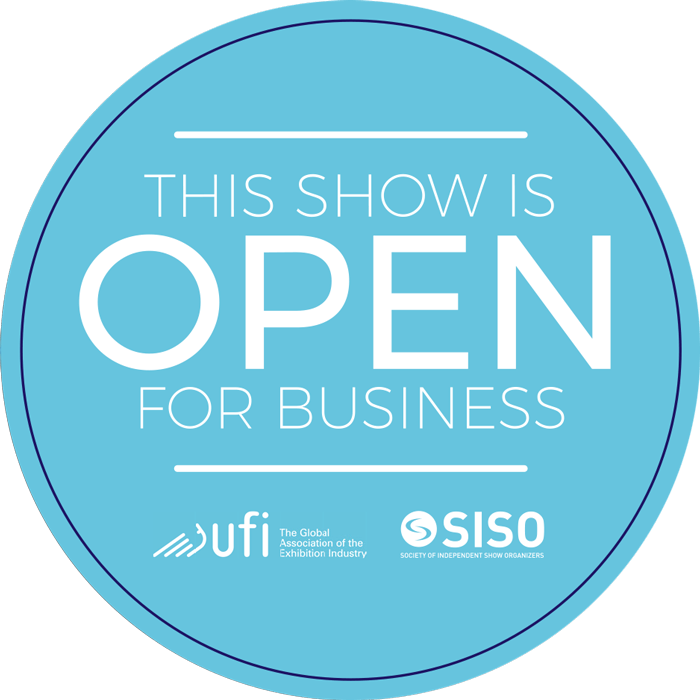 Exhibitions and events are essential to millions of businesses around the world. They exist to provide platforms for people and industries to meet, to trade, and to collaborate. Small and medium businesses in all industries in particular depend on exhibitions. And, like all types of events, they support the economy worldwide.
Exhibitions and events are especially important in times of disruption. We stand to fulfill our obligation to maintain opportunities for people to meet wherever possible. As part of the exhibitions industry, we are committed to keeping our exhibitions and events going around the world wherever we can do so.
We protect participants by implementing advice from global health authorities like the World Health Organisation as well as the national and local authorities.
We strive to make it possible for every company to come to the show floor, to seek to meet with industry peers, to drive the exchange about how and to what degree their respective industries are impacted by COVID-19, and to secure the successful future for their businesses.
Where the authorities tell us to postpone in light of COVID-19, we will.
Case Studies
No posts found
No Posts found matching your query. Please try searching below.
"As an independent meeting planner I've had the opportunity to work with AES for several years at several trade shows.The AES team is a true partner when it comes to putting on my shows.From taking ownership of the unique aspects of each space and it's planning needs, to professional communication with exhibitors, clients and the venue, I always know our show is in good hands with American Exposition Services.They represent me and my clients well and I would recommend them to anyone looking for a professional and flexible decorator who thinks outside the box to get the job done."
Danielle Oliver
Meeting Planner
"My compliments to you and the entire AES staff for all your hard work. The suggestions you had with set up and design of the exhibit hall made it a tremendous success! As always, your team is EXTREMELY competent, courteous and professional. I can't wait to work with you again next year!"
Della Yee
Sacramento District Dental Society
"We switched to AES for our event services in 2015. We were incredibly impressed by the professionalism of the entire staff. The owner, event coordinator and general staff all performed at a peak level to ensure our event went smoothly from move in to move out."
Jeremy Epstein
Sacramento Reptile Show
"Thank you for all you did for us. You and your staff did a great job and made our job easier. It was a pleasure to work with you."
Mary Motsenbocker
Go West Summit
"I just wanted to take a moment to extend my appreciation to all of you guys. I think it is worth mentioning that both (workers) did a great job in setting up the booth and (their) assistance with tearing it down went very well too. I appreciated your company's professionalism and staying on task to get the job done in a timely manner."
"Thank you very much for the donation of pipe and draping at the gift wrap fundraising event for Chicks in Crisis. It was set up so nicely and really great to have the private space to wrap gifts and store our supplies. We had a good event and your generosity was greatly appreciated!"
Ana Bertolucci
NuStar Energy
"SDDS LOVES AES! Their organization, attention to detail, friendly and accommodating nature has been a please to work with… for the last 25 years!"
Cathy Levering
Sacramento District Dental Society
"Even for a seasoned meeting planner, trade shows can be stressful but AES has been my go-to source for the past 16 years to pull off successful conferences without worry. Their team is always professional, routinely going over and above expectations. When working with AES, the word team applies not only to their staff working efficiently together, they become part of our association's team, doing everything in their power to see our vision come to fruition, within our budget and responding to our needs in a timely manner. I whole-heartedly recommend AES to all of my colleagues."
Della Yee
California Veterinary Medical Association
"Our long-standing partnership with Mark Staples and his amazing team keep us hiring AES over and over!"
James Raycraft
Mosaic Event Managment
"In 2017 we partnered with AES to provide tradeshow exhibitor services at our annual Pacific Sail & Power Boat Show in the Bay Area. We have over 200 exhibitors both on-land, as well as in the water. The exhibitors come from across the nation with displays in all sizes. AES took on this task with a "yes" and "can do" attitude and made a normally stressful exhibitor move in and move out easy and seamless. The normal stress level of show management was significantly reduced thanks to the efficient and professional staff. AES provides all the decorator services you can think of including freight management. It was an easy decision to partner up with AES for the 2018 boat show, and we hope to continue this partnership in the years to come."
Jorgen Bateman
Pacific Sail & Power BoatShow